---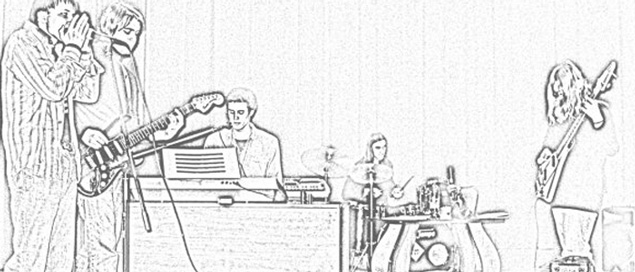 Strange multistyled band active from 2005 to 2009 with various musicians under different names (and sometimes without any). At the present time – in sleep mode.
The bulk of the material remained unpublished, the archives are kept by the band members on tapes and in digital format. Few people had the good fortune to watch some rare live performances.
Some members (in different years):
Sergey Geichenko – voice, synthesizers, piano, guitars, harmonica, flute, electronics, other instruments;
Alexander Barkov – synthesizers, voice, electronics and various instruments on the occasion;
Natalya Altukhova – domra, acoustic guitar, voice;
Anton Grishin – guitars, harmonica, voice;
Anton Zhokh – drums and percussion, guitar, bass guitar, harmonica;
Elizabeth Volkova – bass guitar, guitar, voice.
In general the band collaborated with 20 musicians or so.
---
Discography:

«Осенние Лучи»
(2012, Frozen Light)

«Духпу»
(2012, Frozen Light)
«Треки из альбома "Потуги"» ‎(2007, Digital Promo EP, Pushkinstyle1799)
«Скоро выходит новый альбом: GEY BAR» ‎‎(2007, Digital Promo EP, Pushkinstyle1799)
«Если хочешь быть счастливым» ‎(2008, Digital макси-сингл, Pushkinstyle1799)
«Чжан Яштух (сборник демо-записей)» ‎(2008, Digital сборник, Pushkinstyle1799)
---
Link