FZL 022

01.07.2015

CD
---
Description:
Latvian composer, musician and sound designer Kirils Lomunovs/Astrowind is soaring up to the cosmos again with his new EP "Kedr". An unquiet and seemingly somewhat chaotic music enshrouds deep textures of sound, micronoise of cosmos and voices of its conquerors. Atmosphere of nostalgia for enthusiasm of a gone epoch of extraterrestrial space active research and an attempt to look past earth orbit from the Earth have been explored in the terrestrial studio Tokctoka.
Voices of antique analogue synthesizers and analogue sound effects are employed to help in piercing the space: Vermona synthesizer, Roland RE-201 Space Echo, multiple artifacts of Formanta Radio Factory in Kachkanar, USSR, including Polivoks itself, as well as other exciting and legendary tools. A virtual-analogue synthesizer Oberheim OB 12 – "crazy mathematician" – plays a special role in this record.
For admirers of space music and analogue sound.
soundcloud.com
---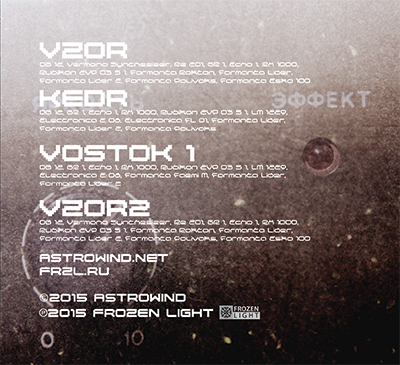 CD.
---
sold out